YEAR END Sale Through 12/31
Creating Wellth
Business Wellness Accelerator
for Health Coaches

You've learned how to guide your clients and yourself in the journey to well-being. How about the well-being of your business? Creating Wellth is all about business wellness, for your wellness business, so you can build and scale your health coaching practice, with compassion.
Are you ready?
This course is approved by NBHWC for 10 continuing education credits (NBHWC course number CE-000004-1)
What is the course about?
Watch this video to learn more about what to expect in the Business Wellness Accelerator!
This program might be for
You

if...
You are overwhelmed and don't know where to begin to even start your wellness biz

You are confused by the tech and tools that seem necessary to build your biz

You're stretched; you want to devote time to your biz, but life and your "day job" take up your time

You feel held back by doubts, fear and limiting-beliefs

You find it near impossible to find clientele and a profit, no matter how hard you try

You wish your biz would generate the income and time to allow you do the things you love with those you care about
DOES ANY OF THIS SOUND FAMILIAR?
Now, imagine that...
You know the tools and how to use them to optimize and automate your business so that you don't have to wear all of the hats in your business each day
You know where to find and how to market to your ideal client, and they seek YOU out
You wake up to seeing new bookings, literally making money in your sleep
You are confident in your ability to grow and scale your business in innovative ways
Your biz is generating a sustainable income and you have the choice of letting go or your day job, if you desire
You could work from anywhere, on your own schedule
Does this sound like your vision of success for your business and lifestyle?
The Creating Wellth
Business Wellness Accelerator
for Health Coaches
The Business Wellness Accelerator for Health Coaches is business strategy course that teaches health coaches and well-preneurs the fundamentals of business well-being to allow them to build and scale their wellness businesses with compassion. This program will take the student through a clearly marked set of steps to build, sustain and scale their wellness business. In this unique approach to building a business, you will also learn how some of the same concepts in health coaching, can be applied to building the foundation of your coaching business.
Eight-weeks and 14 modules of content include:
Printable PDF guides

Interactive videos & step-by-step tutorials

Actionable templates & checklists

Workbooks with assignment prompts

Editable business planning spreadsheets

Surprise bonus content!
What students are saying
I took some of Jessica's suggestions and made changes in my sign-up page, after which new clients began investing in year-long prepaid coaching packages instead of trialing a month at a time.
-A.D.
Health Coach

Ready to grow your coaching biz
without the overwhelm?
Creating Wellth's BWA will take you through exact steps to confidently launch (or grow) your business, so that by the end of the program, you will have gained tools to create an irresistible offer that delights your ideal clients, and understand how to scale your business to grow with your clients throughout the coaching lifecycle.

The Creating Wellth
Business Wellness Accelerator
The BWA Program contains over $6,000 worth of content. It is available now at an incredible discount. Enroll today for the best price!


NBHWC-approved for continuing education

Regularly updated course content
(even after course completion!)

Unlimited access
Meet your instructor!
Jessica Villalobos, MBA, NBC-HWC
Hello and welcome! I'm a National Board Certified Health & Wellness Coach, plant-based nutritionist, registered 200-hour yoga teacher, and my most important role is being a busy mommy to 2 kiddos. I hold an MBA degree with an emphasis in marketing and entrepreneurship, and have nearly 15 years of business strategy and consulting experience. With my unique background in business and experience as a well-being coach entrepreneur, I am passing on the tools and knowledge that I wish I had at my disposal when I first started my coaching business, in this unique course geared specifically for health coaches and wellness entrepreneurs.
In The Business Wellness Accelerator, you will gain...
Pride in your wellness business...
knowing that you are setting the foundation for a healthy business and meeting your ideal vision of success for your business in a way that allows you to express self-compassion.
Cool confidence...
knowing which stage of business you are in, and comfortably following a strategic plan with the RIGHT steps based on where you are currently, rather than trying to fit into a cookie-cutter approach to business.
Positioning as THE coach...
for your ideal client to work with, that sets you apart from the competition. You'll gain clarity on who your ideal coaching client is, getting into their head and communicating in a way that speaks directly to them.
A business-abundance mindset...
that comes from knowing how to best price your offers and packages in a way that meets the financial well-being needs of your clients and YOU
Leadership in your market niche...
from being able to identify the impact you make to help your ideal clients achieve the transformation they desire. Being crystal clear on what value you deliver and the channels you strategically use to deliver, positions you as an innovator.
The gift of time...
from understanding how to launch your offers, automate processes and scale your services to many. When you gain time, you gain freedom to focus on doing more of the things you love (in your business and your life!)
An efficient, laser-focused approach...
to crafting a menu of offerings that speak to your clients, whether you are creating your first, or one-hundred-and-first offer!
Creativity...
that comes from having an effective content strategy, leading to continuous inspiration in executing your wellness business strategy for marketing to your ideal client
Inside the Program
The Business Wellness Accelerator is a hands-on experience. In as little as eight-weeks, you will not just learn, but also execute exact tasks and utilize the tools necessary to help you launch (or grow) your business, and your first (or next) offer.
The Foundation to Business-Wellbeing
Learn the important elements that will keep you (and your wellness business) functioning optimally. Includes mindset, visioning and goal setting (your enrollment includes a digital business planning spreadsheet).
Communicating to your Niche
Get clear on your ideal client and how you can serve them. Learn why narrowing your ideal client base will result in more impact in your business.
Marketing Strategy
Understand marketing channels, the importance of building your email list, and how you can harness the power of social networks to reach potential clients without spending a dime on advertising.
Content Strategy
You will learn how to effectively deliver content across your platforms, and even receive a content calendar and several strategies for building your content.
Offers, From Opt-In to VIP Program
You will receive guidance on how to create a menu of offers that deliver your value and transformation. Learn how to scale your offers by delivering to many.
More!
Tons more value in additional content, features, tools & resources, and special bonuses!
Another satisfied student
It was so incredibly organized! I appreciated the structure of how it was set up for each module. Overall, it was an extraordinary value for the amount of content provided.
-J.P.

Health Coach
Don't miss out!
Weekly Modules
Weekly modules contain videos, workbooks, guides, prompts for action, and other resources. Each of the weekly modules build upon one another, and are designed to get you laser-focused on successfully completing each step, before moving to the next.
Assignments
Each module concludes with an assignment so that you have clear expectations of what action is required for your business success. This is not just a knowledge course; it is designed for you to take immediate action so that you can make an impact and get results.
CE Credits
We are a NBHWC approved course, so NBC-HWC's can earn CEC's to maintain their credential, WHILE learning how to build and scale their coaching business.
Bonus Material
Special bonuses include a business and content planner, content strategy guide, signature offer blueprint, financial tools spreadsheets, a unique take on how to apply the stages of change to your business, and SO much more!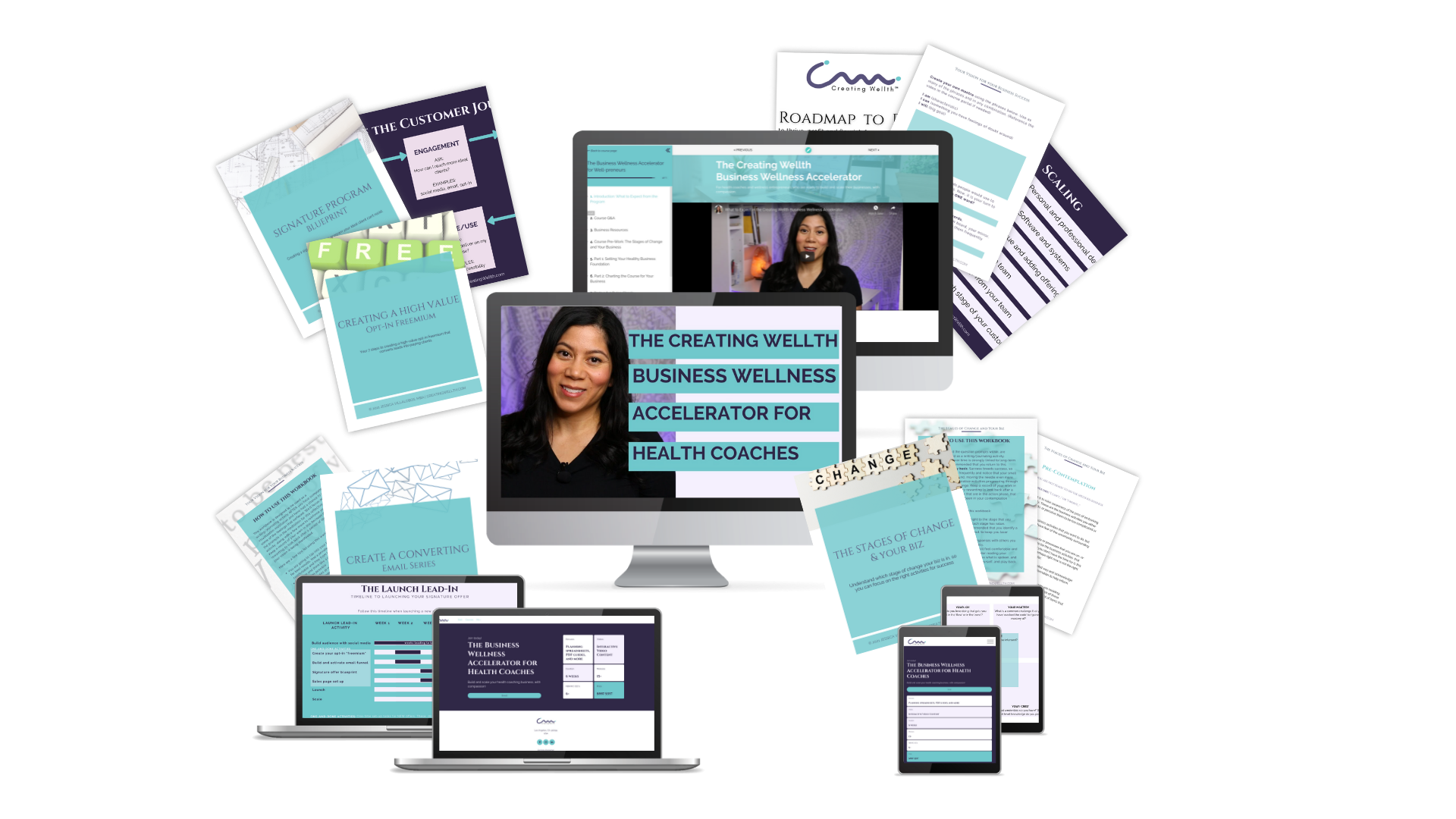 Incredible Value
15+
downloadable resources
The Business Wellness Accelerator will move coaches and well-preneurs from feelings of overwhelm and confusion with not knowing where to begin in building a wellness practice, to feelings of confidence in their ability to start and grow a successful business.


JOIN US AND START GROWING YOUR BUSINESS TODAY!

Special pricing is only available for a limited time.
Frequently asked questions
Is this a live training or can I go at my own pace?
Upon enrollment, you will get immediate access to all course modules. This training is designed to work around your schedule and the phase of business that you are in. It is asynchronous (on-demand) in nature, so you may choose to work through each module to the next, or focus on those that apply to your stage of business, or the specific needs you have. With lifetime access, you can take as long as you need to get through the content, or return to content as it serves you.
I am a NBC-HWC. How can I get CEC's for my credential with the National Board for Health and Wellness Coaching?
As a proud NBHWC-approved course, you may earn CEC's to maintain your credential if you are a National Board Certified Health and Wellness Coach (NBC-HWC). Credits will be rewarded upon completion of the assessments and course activities. The total number of CEC's awardable upon completion of course activities and assessments is 10. Please refer to the NBHWC website for more specific information on reporting your credits.

NBHWC Approved CE Courses only serve as continuing education and professional development for the renewal of a credential, NOT as initial coach training or education. Completion of NBHWC Approved Continuing Education Courses DOES NOT qualify students to sit for the NBHWC Board Exam. Please refer to the NBHWC website for further details.
Do I need to be tech savvy?
Not at all. This is designed to be an easy to navigate course. You will learn the necessary tech; in fact, the processes we teach are low- to no-tech.
How is Creating Wellth different from other business courses?
Besides paying a fraction of what you might pay with another business course, the Business Wellness Accelerator is a comprehensive program, geared toward health coaches and other wellness entrepreneurs, whether you are a starter or scaler in your business. We don't just tell you the steps and which resources to use; we actually take you through the processes, so that if you devote the time and follow along week by week, you will actually create your first (or next) signature offer. In fact, we'll even take you through how to do it with low-to-no-tech.

Additionally, we are a NBHWC approved course, so you can earn CEC's to maintain your NBC-HWC credential WHILE learning how to build your coaching business.
How can I get support while completing the program?
While this is an on-demand, self-paced program, we are here to support you every step of the way, so you will have the opportunity to get all of your course content questions answered through our ongoing Q&A form. Of course, technical support for issues related to accessing our course portal, is always available.
What's the refund policy?
Due to the digital nature of this program, and the discounted pricing, we cannot offer refunds and you are responsible for full payment of the fee for the program regardless if you complete it. We wholly believe in our program and believe in the Student's ability to get the results they are looking for if they are dedicated to the full process. We are confident that with the tools and strategies provided, you will be able to create amazing results in your business that will pay dividends in the future. We highly recommend you review this full page to get all the specific details of the program, what's included, how it works, the pricing and more, to be able to make the best decision for you and your business.
Does the course cover the legal aspects of building a business?
Legal aspects of starting a business are out of the scope of this course. However, there is a helpful book that we recommend, which is shared in the resource section in this course.
Are there any coupons or discounts?
Yes! Special pricing is currently available, but only for a limited time. Additionally, sign up for our
e-mail list
to get a coupon code to apply to this already heavily discounted program!
I am really interested but now is not a good time. What benefit do I get in signing up now vs. later when I am ready?
First and foremost, it is important to connect with yourself to determine what feels best for YOU. What we can say is that current special pricing is for a limited time. When you factor in the additional savings you get from signing up to our
e-mail list
, it is an incredible value. You will continue to have access to the course and any material that is added, even after you have completed it, which means that you will continue to get more value from the program, regardless of what you pay today.
I still have questions. How can I get them answered?
Did you know you can get a free download of the course outline by signing up for our
email list
? It will give you a deeper view of what to expect in the course. We want you to feel confident in your decision. If you have additional questions, please feel free to
contact us.
Join our email list!
Get your first coupon immediately upon sign-up!

You'll also get a link to our 'ROADMAP TO RISE' to help put you on the path to profit from your biz, as well as a preview of the course syllabus!
You will be notified of promotions, new offerings and receive our occasional newsletter with coaching business tips and tricks. You can opt-out anytime.
Sorry!
This option is currently sold out. However, our
Email Mentorship
is available and currently on sale!
Created with